Every week I find myself looking at some crafting/decorating/sewing/cooking blogs and wishing I had the time to do more of this stuff in my own home. Even though I can't possibly accomplish it all they give me inspiration, ideas and great visuals and instructions on how to do such things.
Today I want to share with you my Four Favorite Domestic blogs in no particular order!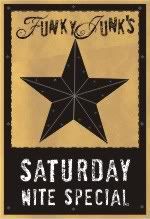 1. Donna at
Funky Junk Interiors
takes "Trash to Treasure" to a whole new level!
There isn't anything that she can't turn into something beautiful. If you have never check her out I highly recommend it.
On Saturday's she hosts a linky event where other bloggers link up their projects.
2. Andrea at
The Train to Crazy
can sew like nobodies business! How she has the time with 4 little ones I am not sure but I do love looking at all the beautiful clothing she creates.
On Thursday's she hosts a linky event where other bloggers can link up what they have been making to wear.
3. Maryann at
Domestically Speakin
g offers an array of recipes, crafts and redecorating.
On Wednesday's she hosts a linky party for bloggers who have created something using paint called The Power of Paint.
4. Becky at
Mrs. Bettie Rocker
posts some of the most scrumptious looking recipes! This mommy of 2 little guys puts me to shame with all her cooking, not to mention that every recipe she posts makes me want to try it.